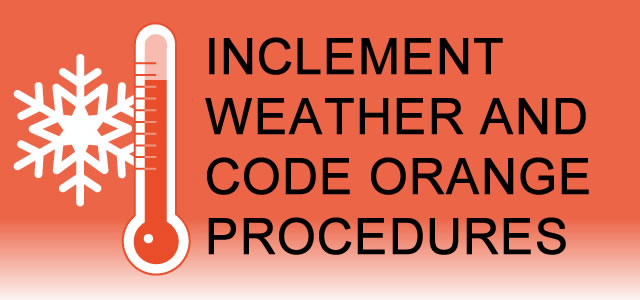 PWCS has added a new code, Code Orange, for days when weather may be marginal such as when road conditions are uncertain, or unsafe, for a limited period. Code Orange may be used in lieu of days that in previous years were delayed openings.
For the 2022-23 school year, students should use these Code Orange days for asynchronous learning as an opportunity to complete work assigned and/or to receive support from their teacher during posted office hours that will be between 9 a.m. and 2 p.m. with specific teacher office hours to be posted on the school website and/or canvas.
Code Orange will be an asynchronous learning day for students. In-person and live virtual sessions will not occur, but students should log into Canvas and utilize Office Hour Zoom links to work on previously taught curriculum.
On a Code Orange Day, teacher Office Hours will be by subject as follows:
8:00 AM - 9:00 AM: World Language and Music
9:00 AM - 10:00 AM: Math, TOK, and PPS
10:00 AM - 11:00 AM: Science, HPE, and AFJROTC
11:00 AM - 12:00 PM: Social Studies, ELD, and EAP/AL
12:00 PM - 1:00 PM: English and Business
1:00 PM - 2:00 PM: Art, FACS, CTE, and Comp Skills